"Privileged" and "Proud"

Words Galen Wagnild & Kathy Mueller use to describe their achievement of the ultimate professional recognition: Certified by the American Board of Prosthodontics.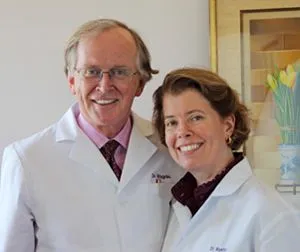 We have been in specialty private practice together in downtown San Francisco for twenty-five years, and happily married for the same twenty-five years! Our combined clinical experience, augmented by many years of teaching, provides a strong foundation of support for the care of our patients. Our approach to patient care is professional, respectful, and collegial. We make every effort to understand your personal concerns and your dental conditions, then propose a range of treatment options based on sound clinical judgment and evidence-based data. We focus on prosthetic, restorative, and replacement dentistry.
Years of helping patients and students solve problems underscores our commitment to helping our patients solve their often complex dental problems in a positive environment.
WE HAVE THE NICEST PATIENTS!
Years ago, we decided to treat only nice people – whether they needed the most complex reconstruction or the simplest maintenance. Now, every day is filled with interesting, accomplished, funny, warm, and exceedingly nice people from all walks of life. Thanks to our patients, our friends, we all love to come to the office each morning! We also are happy to welcome your friends and family to our practice. Nice people usually have nice friends!