Fillings generally last for many years, often since childhood! But nothing lasts forever. Fractured fillings provide a great hiding place for decay-causing bacteria to multiply and do their damage. If a broken filling is relatively small, it can be replaced with a new, tooth-colored bonded filling. These are esthetic and reinforce the tooth internally for added strength. Teeth with larger fillings usually require protection against tooth fracture. A split tooth or fractured root is an unfixable problem that requires extraction and replacement with a bridge or dental implant. To reduce the risk of terminal fracture in damaged teeth, we recommend onlays or crowns. These encase the tooth from the outside and hold it together during the stresses of chewing and the all-to-common problems of teeth grinding or clenching. Dental insurance usually helps with these procedures.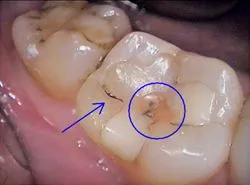 This filling is broken & has decay around it. Another filling can replace it, because it is relatively small.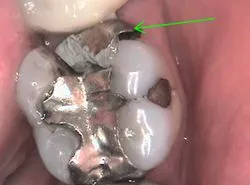 This fractured filling is too large to replace with another filling. A crown is recommended to protect the tooth from fracture.